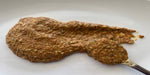 Making your own Truffle Mustard is a flavorful treat that can be added to a multitude of dishes.  The big secret is that it is extremely easy to make. Best of all, here is how to make truffle mustard along with a simple truffle mustard recipe – it only takes 3 ingredients: dijon style mustard, truffle essence, and a small amount of truffles.
A little info about the type of truffles you choose to use to make your truffle mustard.  First thing to make sure of is to use black truffles with the black truffle essence and white truffles with the white truffle essence.  They have different flavor and aroma profiles so it makes the most sense to pair them together.  Fresh truffles are always recommended.  They will impart the most flavor and best aroma.  The reason you need the truffle essence for the making of truffle honey is that even with fresh truffles the flavor and aroma will dissipate over time.  The sulfur compounds that create the amazing flavor and aroma will evaporate and leave you lacking the flavor and aroma you want.  The truffle essence will maintain that great flavor and aroma you expect.
It is understood that fresh truffles may not always be an option.  Per ounce they are one of the most expensive foods on earth!  Canned or dried truffle truffles can be used.  They will not add much in flavor and aroma but you will be getting all you need from the truffle essence anyway.  They will add a great look to the mustard that you cannot get from anything else.
At TruffleAroma.com we sell ALL NATURAL white and black truffle essence to flavor your mustard.  It contains no artificial ingredients.
Truffle Mustard Recipe
Ingredients:
2 cups dijon style mustard
½ tablespoon fresh, dried or canned truffles
Instructions: Using the graduated pipette that comes with your order, measure out 1 ml truffle essence and add it to the 2 cups of mustard. Stir until well combined. Using a spoon or spatula mix in the chopped truffles. Mix this part by hand and slowly so as not to crush the truffles. Finally, let it sit overnight for the flavors and aroma to become distributed evenly through the mustard.
Please feel free to love the experimenting process.  You may prefer your truffle mustard to have a slightly stronger or weaker flavor and aroma.  With our easy to use pipette, you can adjust the amount of truffle essence added to the mustard.  Making it perfect for YOU won't take long.