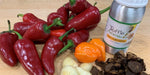 Truffle hot sauce is hot right now.  People have been asking for a truffle hot sauce recipe so we are giving it to the people.  Making your own hot sauce is easy and TruffleAroma.com makes it easy to add your own truffle flavoring to it.  
The recipe is simple.  Keep in mind though that you can customize it any way you like by using different chilis.  You can make it spicier by adding more habaneros or make it sweet by using sweet bell peppers. 
Have fun experimenting.
Black Truffle Hot Sauce
Makes about 4 small (5oz) jars
1 lb fresh red chilis (red jalapenos or fresno)
2 each habanero chilis
2 cups white wine vinegar
4 cloves garlic
1 tablespoon sugar
1/2 teaspoon ground cumin
1/2 ml Truffle Aroma Black Truffle Essence 
2 tablespoons honey
1 tablespoon dried black truffle slices
Directions:
Start by rehydrating the black truffle slices by covering them in very hot water until they soak it up and become soft.     
Rough chop the chilis and the garlic.  Saute the chopped chilis and garlic until softened.  
Add the vinegar, truffle slices, cumin and sugar.  Simmer for another 5 minutes.
Remove from the heat.  Cover and let it cool to room temperature.  
Put the mixture in the blender or food processor.  Add honey and black truffle essence.  Blend until very smooth. 
Strain your hot sauce through a mesh strainer and it is ready to go. 
Even Better the Next Day!!!