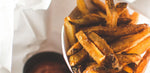 Have you ever eaten a TRUFFLE? No, not the chocolate dessert kind. The real underground variety, grown on the roots of trees. Maybe you haven't, since they are both elusive and expensive. What about Truffle Fries? Are you thinking we shred these nuggets into strings, like potatoes into french fries?  As interesting as that may seem, that would be ridiculously expensive and not at all practical.
Foodies and chefs know that TRUFFLES are added as a finishing touch to change the flavor dynamics of any food. Restaurants are now using them as a main ingredient in a few of their signature dishes. Some are sprinkling truffle oil on pasta, salads and soups. Others use them as a butter on breads, vegetables or mayonnaise for spreads. The recipe we are hearing about the most is for PARMESAN TRUFFLE FRIES. Addictive and distinctive in flavor, even our Canadian friends enjoy them instead of Poutine. Drizzle a little white truffle oil over crispy french fries, grate a little fresh Parmesan cheese over the top, and VIOLA! You will be hooked.
Next time you visit your local burger joint, ask the server to add some truffle oil and Parmesan cheese to your fries. Get ready for a taste sensation you'll want to experience time and time again.
Or make your own truffle oil at home by adding TRUFFLE ESSENCE to your own bottle of Extra Virgin Olive Oil or GrapeSeed Oil. Just follow the recommended dilution guidelines. It's that simple.